Did you know that the fear of public speaking is the number one fear in the United States? Maybe you know someone (intimately) that would benefit from having less fear and more confidence and even joy in public speaking? This is the seminar for you.
March 14 & 15, 2020 Nick Kemp will  be in New York to join me in presenting our ever popular  Public Speaking Power through Storytelling seminar in the United States. That's a Saturday and Sunday from 10 AM to 6 PM. This is a story telling workshop but so much more. It is about how to write and how to deliver good stories, speeches or presentations effectively. This is a workshop for Corporate CEOs and this is a a workshop for Kindergarten teachers. This is a workshop for therapists and a workshop for salesmen. This workshop will help anybody get better at what they do because it will help you be a more effective communicator.
 It is fun. It is action packed. It is muti-media and chock full of invaluable learning and experience.
Discover how to write and tell YOUR story well – with fun and impact!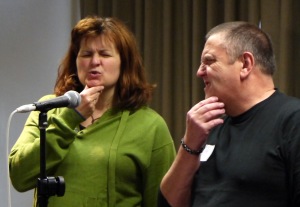 Sign up for out New York City class now!
This is some of what will be included in the full weekend:
The use of storytelling in persuasion
 How to FEEL GOOD when speaking in front of a group
The power of voice and tonality in exquisite communication
Three classic Story arcs to help shape your stories in a compelling way
Creating and using metaphors
Principles of improv
much more…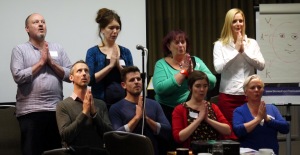 "They say that everyone has a story to tell, and in this two day workshop, full of learning and laughter, Nick and Doug drew out wonderful stories from every single participant.   The weekend is relevant to everyone, whether you're new to writing stories or a seasoned author; whether public speaking makes you anxious or excited.  I've come home with a new understanding of what works well and how to make it even better and I can't wait to practice my new skills.  A master class from two expert communicators." – Jane James
TUITION: $450.00 at the door. (Only $399 if paid online.)