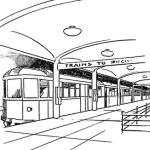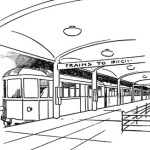 COACHES CORNER: Stories you can use.
Meaningful, metaphorical stories can be golden for a working coach. Today's story comes from Stephen Covey's "7 Habits of Highly Effective People." I've used this story effectively when working with clients who have anger management issues.
It was a Sunday morning on a subway in New York. People were sitting quietly — some reading newspapers, some lost in thought, some resting with their eyes closed. It was a calm, peaceful scene. Then suddenly, a man and his children entered the subway car. The children were so loud and rambunctious that instantly the whole climate changed.
The man sat down in one of the seats and closed his eyes, apparently oblivious to the situation. The children were yelling back and forth, throwing things, and even grabbing people's papers. It was very disturbing. And yet, the man did nothing.
It was difficult not to feel irritated. The other passengers could not believe that he could be so insensitive to let his children run wild like that and do nothing about it, taking no responsibility at all. Moreover, his inattention could be dangerous for the children's welfare as well. Tension with the situation grew.
Finally one of the passengers near him said to him (with a fair amount of annoyance in his voice), "Sir, your children are really disturbing a lot of people. I wonder if you couldn't control them a little more?"
The man lifted his gaze as if to come to a consciousness of the situation for the first time and said softly, "Oh, gosh, I'm sorry. You're right. I guess I should do something about it. We just came from the hospital where their mother died about an hour ago. I don't know what to think, and I guess they don't know how to handle it either."
Can you imagine what everyone on that train car felt at that moment? Suddenly everything shifted. Everyone saw things differently, felt differently, behaved differently. Irritation vanished and was immediately replaced by feelings of sympathy and compassion. "Your wife just died? Oh, I'm so sorry. What can I do to help?" Everything changed in an instant.