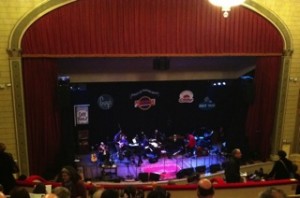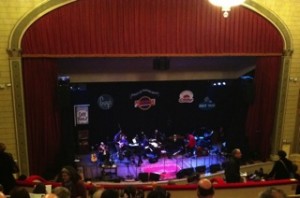 Last week I had the delightful experience of attending a live broadcast of
"A Prairie Home Companion"
radio show with
Garrison Keillor
. This radio show is broadcast on National Public Radio here in the United States. It features music and comedic radio plays (with sound effects performed live by a man with an uncanny ear for such things) all hosted by a gentleman by the name of Garrison Keillor.
The highlight of the show – for me anyway – is when Mr. Keillor takes center stage, all by himself, and tells a story. It's so cool, in this age of bigger-faster-louder, that he can just sit there on a stool and tell a story he made up and have everyone in the audience on the edge of their proverbial seats. He starts all his stories in this weekly show the same way, "Well, it's been a quiet week in Lake Wobegon…" (a fictional town in Minnesota).
I love his stories because they are whimsical and funny, often revealing of our human frailty and sometimes even wise and downright poignant. You never know what you're going to get…kind of like real news from back home.
The music he has on the show is almost always acoustic and leans towards country or old timey music. (His musical guest last week was Nellie McVay who is a wonderful and quirky singer/songwriter who came on with her band.)
Interestingly, the first time I listened to this show it was only because I had no choice.
I couldn't get to the radio to change the station.
I'd been listening to the news on the radio while I was painting my apartment. Then the news ended and this nutty show came on with silly skits and country music but I was trapped behind the kitchen cabinets and it would've been a real bother to crawl out to change the station. So I listened. Later, when the "News from Lake Wobegon" began and Garrison told his story I was spellbound. As I recall I was even moved to tears.
It demonstrates the power of a good story well told.
Milton Erickson understood about the power of stories. It's why he employed them so often in his therapeutic work. Sometimes he didn't do any sort of formal hypnotic induction, he just told stories. The stories create the trance.
This is what Nick Kemp and I attempt to offer in our "Stories from the Outside Inn." Stories that can be both entertaining and therapeutic. You'll find this both in the class we teach (coming in March!) about how to write and tell your own stories and also in the web site, www.StoriesFromtheOutsideInn.com.
Bill O'Hanlon says, "I would argue that, genetically, out brains are wired for story telling.
"Storytellers know what other people don't", says Bran Ferren, a designer who worked for years for Disney and other creative entertainment giants, "and that is that our brains more easily comprehend information when it is part of a meaningful narrative — a story whose outcome matters to us."